Lohmann customers are the "stars" among the Flexostars 2018
In December 2018, the annual Flexostars were awarded to the best flexo print results in package printing in Paris.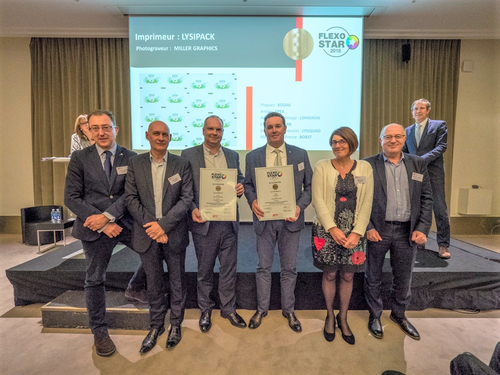 In 15 categories, for example cardboard packaging, paper, foil and label printing, the flexo printers secured ten medals in a joint effort with Lohmann's FLEXperts, including four gold medals, one silver and five bronze ones. This evening, Lohmann won the majority of all medals.
The Flexostars are issued by the Association Technique Française de Flexographie (ATF Flexo) which was founded in 1982. The organization aims to revolutionize the packaging market by the means of flexographic processes. Because of that, its members do not only consist of flexo printers but of ink, machine and cardboard manufacturers as well.
For many years now, Lohmann has been contributing to the Flexostar Awards as a sponsor. In addition, FLEXpert Gilles Durel is Vice President of the ATF Flexo. In this position, he is pushing for the ATF to become more and more globally connected: "The future of flexo printing is European! This is why the ATF is now even more involved in the FTA EUROPE association, the 'European umbrella for Flexo'." In addition, the ATF and Lohmann are both part of the international project "FLEXO BEST PRACTICE TOOLBOX" which aims to bring together flexo printing expertise in a best practice reference document. Durel was also glad to forecast a positive outlook for post printing processes.
Among the winners of the Flexostars 2018 were, e.g. the Lohmann customers Ds Smith Sud Ouest with a golden medal, Smurfit Kappa with silver and Lysipack with a bronze award. Lohmann's FLEXperts are looking forward to future successful projects with their flexo partners in 2019!