Lohmann opens new production plant in Turkey
Lohmann, pioneer in adhesive bonding, today offers adhesive high-tech solutions around the globe.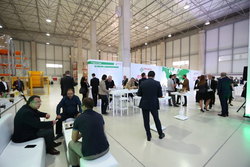 On October 8th, Lohmann´s new production site in Gebze (province of Kocaeli), on the outskirts of Istanbul, was inaugurated with many guests..
In February 2011 Lohmann opened a sales office in Istanbul. Seven years later, it proves to have been the right decision: Lohmann has built a new production site. On approx. 3.100m², different state-of-the-art converting machines now produce adhesive high-end products primarily for the local customers. Altogether, the team in Turkey successfully developed customer relationships, expanded business with existing customers and attracted new ones in the home appliance, furniture, profile manufacturing and automotive sectors. Long-term Lohmann distribution-partner "Matis Matbaa" in Izmir is also in the loop. Together with the Lohmann team they have successfully developed the market in the graphics sector, which is a focus market for Lohmann.
With this new presence in Turkey, Lohmann is able to provide better service directly to local customers. Furthermore, the company wants to expand alongside other international companies who are using Turkey's strategically strong position as hub for the Middle East.